The Marche Region
The Marche Region extends over an area of 9,694 square kilometres in the central Adriatic slope between Emilia-Romagna to the north, Tuscany and Umbria to the west, and Lazio and Abruzzo to the south, the entire eastern boundary being formed by the Adriatic. Most of the region is mountainous or hilly, the main features being the Apennine chain along the internal boundary and an extensive system of hills descending towards the Adriatic.
With the sole exception of Monte Vettore, 2,476 metres (8,123 ft), the mountains do not exceed 2,400 metres (7,900 ft). The hilly area covers two-thirds of the region and is interrupted by wide gullies with numerous – albeit short – rivers and by alluvial plains perpendicular to the principal chain. The parallel mountain chains contain deep river gorges, the best known being those of la Gola del Furlo, la Gola della Rossa and the Frasassi caves.
The coastal area is 173 kilometres long and is relatively flat and straight, except for the hilly area between Gabicce and Pesaro in the north, and the eastern slopes of Monte Conero near Ancona.
The climate is temperate. Inland, in the mountainous areas, the climate is continental, with cold and often snowy winters; by the sea it is mediterranean. Rainfall varies from 1000-1500 mm per year inland and 600-800 mm per year on the Adriatic coast.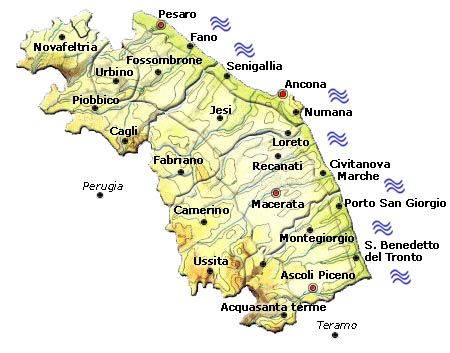 The Frasassi Caves
The Frasassi Caves (Italian: Grotte di Frasassi) are a remarkable karst cave system in the municipality of Genga, Italy, in the province of Ancona, Marche. They are among the most famous show caves in Italy.
The caves, discovered by a group of speleologists from Ancona in 1971, are situated 7 kilometres south of Genga.
Rich in water, the cave system is particularly well endowed  with stalactites and stalagmites.
Near the entrance to the caves there are two sanctuary-chapels: one is the 1029 Santuario di Santa Maria infra Saxa (the Sanctuary of Holy Mary under the Rock) and the second is an 1828 Neoclassical architecture formal temple, known as Tempietto del Valadier.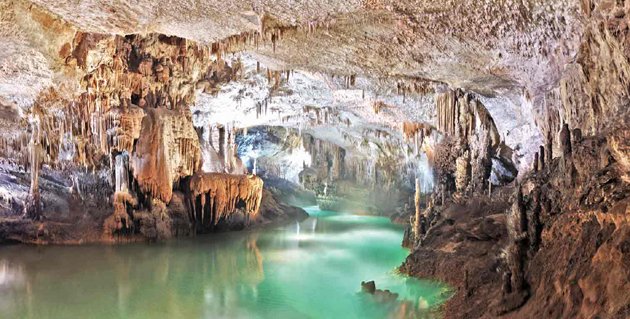 The Riviera del Conero
The Riviera del Conero is actually a magical place. It is located at the foot of Mount Conero and, with its many different habitats, i.e. coastal cliffs, woods, creeks, salty lakes, rural areas, hills and beautiful beaches, it is a really magical place. Rich in plant and animal species, it is a Nature Reserve.
Urbino
The town is located in a predominantly hilly area, at the foothills of the Northern Apennines and the Tuscan-Romagnolo Apennines. Urbino is a UNESCO World Heritage Site. It is the birthplace of two great artists, Bramante and Raphael, and home to one of the oldest and most important universities in Europe, founded in 1506. In the second half of the 15th century, under the rule of Federico da Montefeltro (1444–82) and that of his son Guidobaldo (1482–1508), it became one of the most important centres of Renaissance culture.