2019 IEEE INTERNATIONAL WORKSHOP ON
Metrology for Agriculture and Forestry
PORTICI (NAPLES) - 24-26 OCTOBER 2019

Metrology for Agriculture and Forestry
2019 IEEE INTERNATIONAL WORKSHOP ON
PORTICI (NAPLES) - 24-26 OCTOBER 2019

2019 IEEE INTERNATIONAL WORKSHOP ON
Metrology for Agriculture and Forestry
---
October 24 - 26, 2019
Portici - Naples
University of Naples Federico II
Department of Agricultural Sciences
MetroAgriFor intends to create an active and stimulating forum where academics, researchers and industry experts in the field of measurement and data processing techniques for Agriculture, Forestry and Food can meet and share new advances and research results. Attention is paid, but not limited to, new technologies for agriculture and forestry environment monitoring, food quality monitoring, metrology-assisted production in agriculture, forestry and food industries, sensors and associated signal conditioning for agriculture and forestry, calibration methods for electronic test and measurement for environmental and food applications.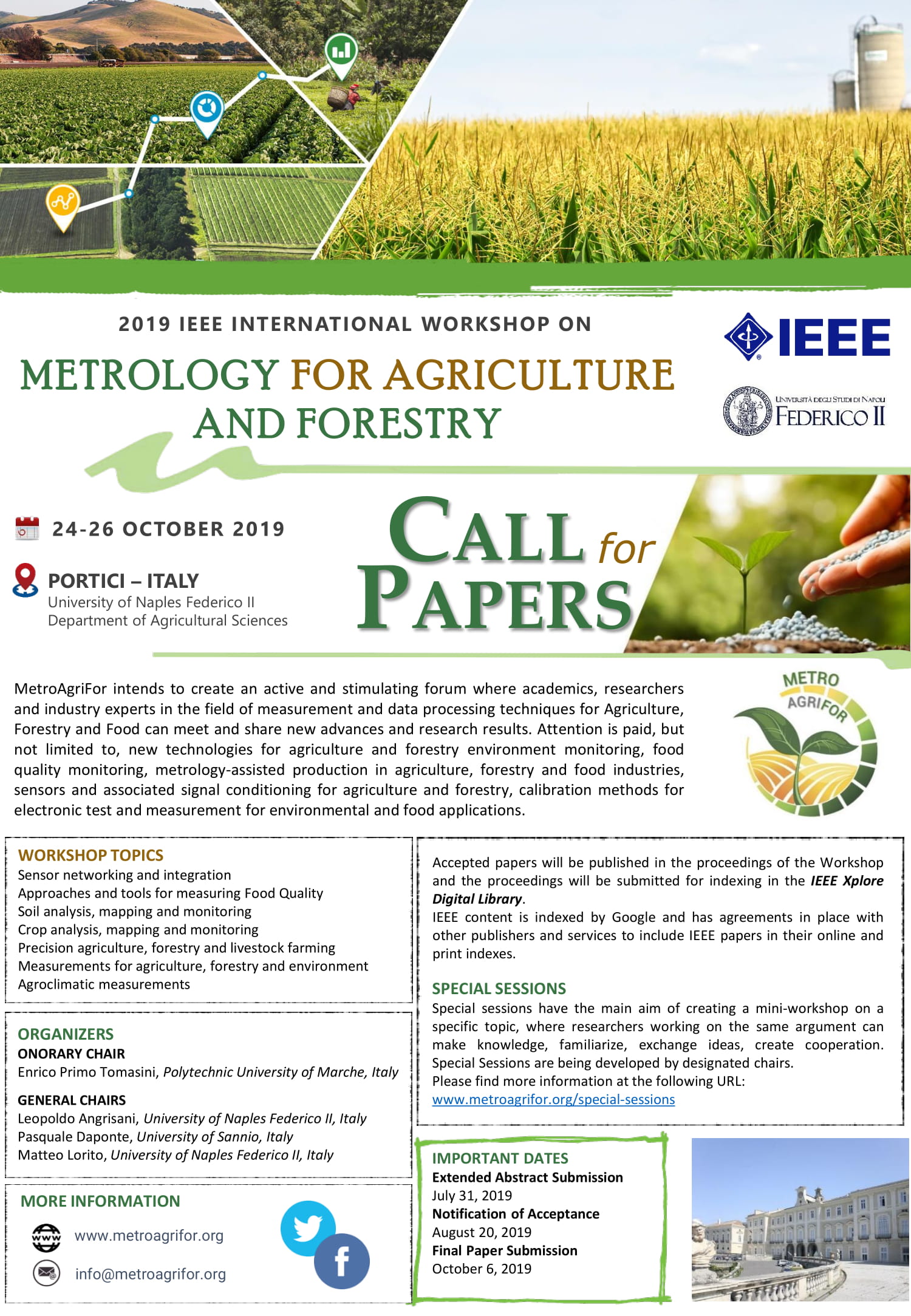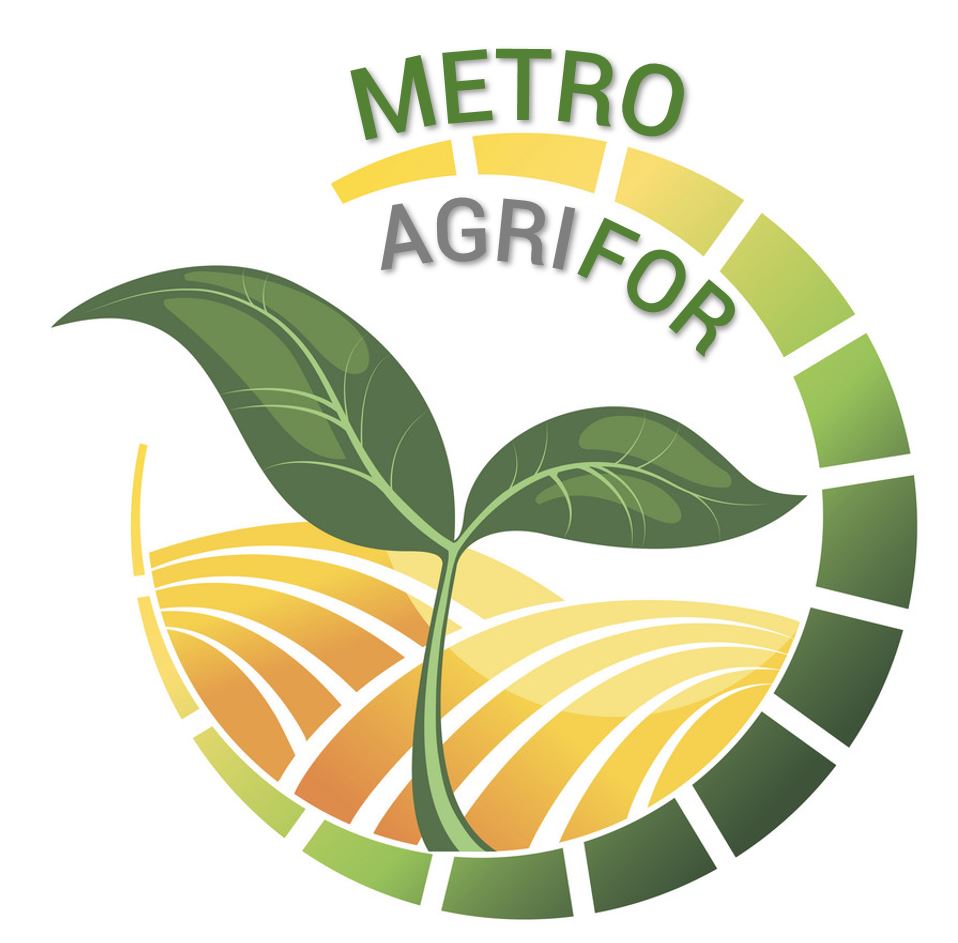 Call for Papers
The Conference Program Committee is inviting Extended Abstracts (from 2 to 4 pages) for the MetroAgriFor 2019 Workshop, 24 – 26 October, 2019.
Interested researchers, academics, practitioners and industry partners are invited to submit extended abstracts for the Workshop. Papers that involve joint authorship with students, industry and community partners are encouraged. Early career researchers and research students are also encouraged to contribute papers.
Accepted papers in final version (maximum 6 pages) will be published in the proceedings of the Workshop and the proceedings will be submitted for indexing in the IEEE Xplore Digital Library.
IEEE content is indexed by Google and has agreements in place with other publishers and services to include IEEE papers in their online and print indexes. Examples include INSPEC, Thomson Reuters' Web of Science, Ei Engineering, and Village. For a complete listing, please click the Publishing and Indexing Partners section on the IEEE Xplore help page.
Special Session Proposal Deadline
Extended Abstract Submission Deadline
Extended Abstract Acceptance Notification
Final Paper Submission Deadline
---
Your Special Session Proposal will be submitted to the Technical Program Committee.
---
The Extended Abstract has a required length of 2 up to 4 pages.
---
You will be notified about acceptance/rejection of your Extended Abstract.
---
The Final Paper (5 to 6 pages length) will be submitted for publication in IEEEXplore.
The Single Market Programme: EU funding synergies for the safety of the food chains
Antonio Di Giulio
Developments in geophysical methods for agriculture applications
Andrew Binley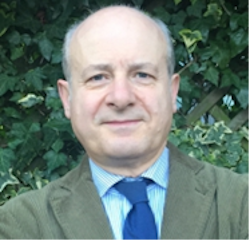 Antonio Di Giulio
Health and Food Safety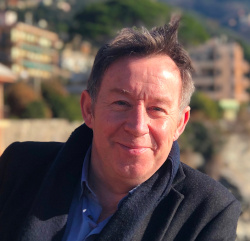 Andrew Binley
Lancaster University
The Royal Palace of Portici was built by King Charles. The work began in 1738, under the lead of Medrano first and then Antonio Canevari, with a final intervention by Vanvitelli and Fuga.
The Palace has a superb facade with wide terraces and balustrades, and it is formed by an upper part and a lower part divided by a vast yard crossed by the old "Royal Road of Calabria", presently called University Avenue.
The entrance hall leads to the first floor through a magnificent staircase along which there are statues coming from Herculaneum; also the floors of some rooms were realised by using mosaics coming from the excavations of Vesuvian cities.
THEMATIC AREAS
---
Metrology, quality assurance and standardisation
Sensors and measurement techniques
Data analysis
Applications
WORKSHOP TOPICS
---
Sensor networking and integration
Approaches and tools for measuring Food Quality
Soil analysis, mapping and monitoring
Crop analysis, mapping and monitoring
Precision agriculture, forestry and livestock farming
Measurements for agriculture, forestry and environment
Agroclimatic measurements
SPECIAL SESSIONS
---
Special sessions have the main aim of creating a mini-workshop on a specific topic, where researchers working on the same argument can make knowledge, familiarize, exchange ideas, create cooperation.
ANNOUNCEMENTS & INITIATIVES
---